CLEAN AGENT FIRE SUPPRESSION SYSTEMS
We provide the top clean-agent suppression systems on the market.
Choose from ANSUL'S® SAPPHIRE® System with 3M™ Novec™1230 Fluid or INERGEN® Inert Sustainable Gas System.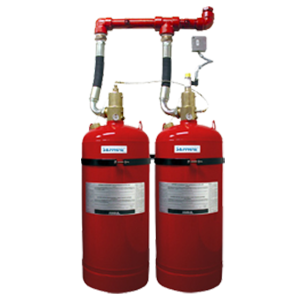 ANSUL® SAPPHIRE® Clean Agent Fire Suppression Systems
ANSUL® SAPPHIRE® fixed nozzle, fire suppression systems are capable of automatic detection and actuation and/or remote manual activation and are an absolute must for computer rooms and other sensitive equipment. Detection is provided 24/7 through an ANSUL AUTOPULSE control system, with other detection options available. Every SAPPHIRE system is custom engineered for the specific application using the most effective, yet efficient arrangement of storage, actuation, distribution and discharge components.
This fixed nozzle, fire suppression system uses 3M™ Novec™ 1230 fire protection fluid for total flooding applications. The agent has ZERO ozone depletion potential, an atmospheric lifetime of just five days, and a global warming potential of 1.0.
Applications include computer and electronic control rooms, data processing centers, medical facilities, museums, power generation plants, telecommunication switch rooms, and mission critical areas.  This same system is used for National Treasures, Surgical Rooms, and Educational Facilities.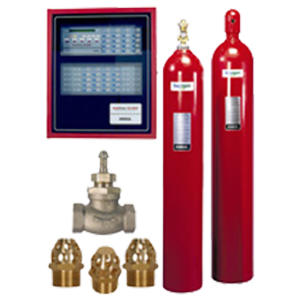 ANSUL® INERGEN® Clean Agent Fire Suppression System
The ANSUL® INERGEN® fire suppression system protects enclosed areas where there is a need for quick reaction to a fire, where people may be present, where fire may strike day or night, and where damage from conventional agents cannot be tolerated. This environment-friendly, people-safe agent has ZERO ozone depletion potential, ZERO global warming potential, and ZERO atmospheric lifetime.
As an inert gas mixture, INERGEN is absolutely free of residues and corrosive by-products that may produce further property damage. In performance testing, INERGEN easily exceeded the NFPA Standard 2001 allowance of one-minute discharge, with documented extinguishments of 22 seconds for a Class A fire and 17 seconds for a Class B fire.
Applications include automated tape storage libraries, computer and data processing facilities, cultural and historical sites, hospital and major medical facilities, museums and art galleries, power generation facilities, and telecommunication facilities.