INDUSTRIAL FIRE SUPPRESSION
For fire hazards found in industrial settings, ANSUL® dry chemical systems provide the flexibility based on the size and configuration of the application. Both systems provide automatic or manual operation and detection, alarm, and release capabilities. Choose from the I-101™ Industrial Fire Suppression Systems or ANSUL's large piped system for reliable protection of paint spray booths, dip tanks, flammable liquid storage, loading racks, offshore platforms, tanker decks, fueling area, steel mills and many other applications.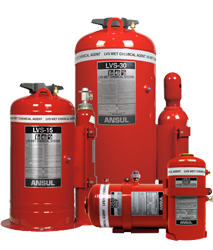 ANSUL® I-101™ Industrial Fire Suppression Systems
The I-101™Industrial Fire Suppression System has been pre-engineered for industrial hazards like paint spray booths, dip tanks, and flammable liquid storage rooms. This system is designed for flexibility and economy, featuring mechanical or electrical detection, total flooding or local application methods, two extinguishing agent options, and multiple tank capacities for Class A, B, and C fire hazards in a wide variety of industrial configurations.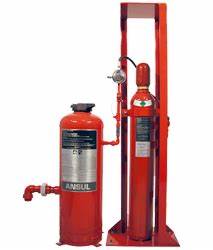 ANSUL® Large Dry Chemical "Piped" Systems
For large industrial applications, ANSUL® large fixed nozzle piped systems provide up to 3000 lbs. (1350 kg) of dry chemical extinguishing agent. System options include reserve systems, selector valves, alarms, detection/control, and special Class D fire systems.