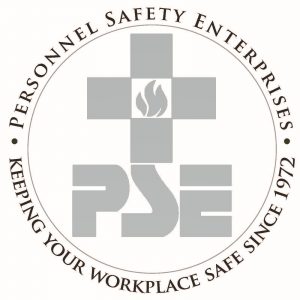 We are Personnel Safety Enterprises.
Personnel Safety Enterprises (PSE) was founded in 1972 in response to the Occupational Safety Health Administration's (OSHA) regulations that were passed in 1971. The Harris/Jacobs family banded together and decided to develop a company that could be a one-stop shop for companies in the Northern Arizona region to purchase safety equipment. They made it their personal mission to provide businesses with not only safety products, but door-to-door service and invaluable vendor/customer relationships.
 
PSE has now grown to serve all of the Four Corner region including Northern Arizona, Southern Utah, Southwestern Colorado and Northeastern New Mexico. The company has grown to encompass three different divisions: First Aid/Safety, Fire Suppression and Industrial Mining. The workforce has grown to over 30 employees living in three different states and we represent over 100 different product lines from various vendors including 3M, Ansul, MCR Safety, MSA, Medique, Rayovac, Sqwincher Corporation and Zoll AED. We provide products and service to a multitude of different businesses, including, but not limited to: Mines, Power Plants, Municipalities, Resorts, Restaurants, Schools, Construction, Golf Courses, Airports, Manufacturing Facilities and Tribal Entities.
With almost 50 years of experience, we are dedicated to the integrity of our work.
Still Family Owned & Operated
Personnel Safety is still owned and operated by Robert Jacobs and his family today.  It was founded on the principles of family, hard work, communication, relationships, and trust.  These principles continue to be the lifeline of the business today.  We strive to provide the highest quality first aid, safety and fire protection products and services to our customers.  We are committed to helping your business increase safety knowledge, reduce workplace safety accidents, enhance safety processes/procedures and improve overall business/workforce performance.
---
  (928) 526-3130
  (800) 648-1232
  info@personnelsafety.com
Fill out the form below and we will be in touch with you shortly!